Farm-info
Development in the literal sense of the word means peeling off shell by shell in order to get closer to an ever-present core of the matter.
Historic buildings and modern agriculture on the organic farm - contemporary, implemented with a lot of commitment and attention to detail.
Get in touch with the essence of the old farm,
keep developing us and him!
Broaden your horizons and implement visions on the farm.
Being there: With a lot of joy, our experience and our knowledge, we are there to accompany your holiday from the first contact:
Your Loitfellner family
Farmer from the Steinbachhof
Kindergarten teacher
Montessori teacher
Moto pedagogue
Interdisciplinary early intervention and family support
University course in early language support
Qualified social work accompanying the disabled
Case Management Certificate
Literature prize of the state of Salzburg for the text "Tabacco"
In Rauris founding member of the rhythmic choir Rauris, the photo and writing group "Bildsprache" and the prepaid card "Rauriser Gold"
In addition to working on the farm for many years in kindergartens and in promoting children with developmental problems!
Farmer from the Steinbachhof
Master of agriculture
Forestry Master
Supervisor
Forest educator
1990-1996: Bank employee in Rauris
Founding member of the "Free Voting Community Rauris"
2000 – 2013 Vice Mayor von Rauris
since 2017: CEO of the Salzburg Cattle Breeding Association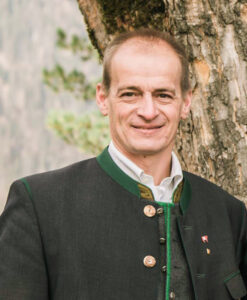 Wood: the highest quality, diverse raw material for the present and the future. Heat from regional, sustainable forestry.
Forestry in our Friesenlaib forest estate is an important part of the entire Steinbachhof business. With our near-natural management, we strive to promote the fir in particular in the future in order to make our forest with a high proportion of spruce climate-friendly.
The term "sustainability" originally comes from forestry. Working and working sustainably is the top priority in our forestry operation!
Our forestry company Friesenlaib in Goldegg-Weng
© Mario Kaiserer